One of the posts I have been trying to type up is a list of our newborn essentials. Now that Reid is one month old there are several things that have made our daily life easier. In no particular order...
1. Bouncer with vibrating feature - Reid does not spend much time in his bouncer but the time he does each time is priceless in my mind. Each morning I put him in the bouncer (on the kitchen table) and have about 5-10 minutes with 2 hands. I am able to make (and sometimes eat) breakfast and wash last nights bottles.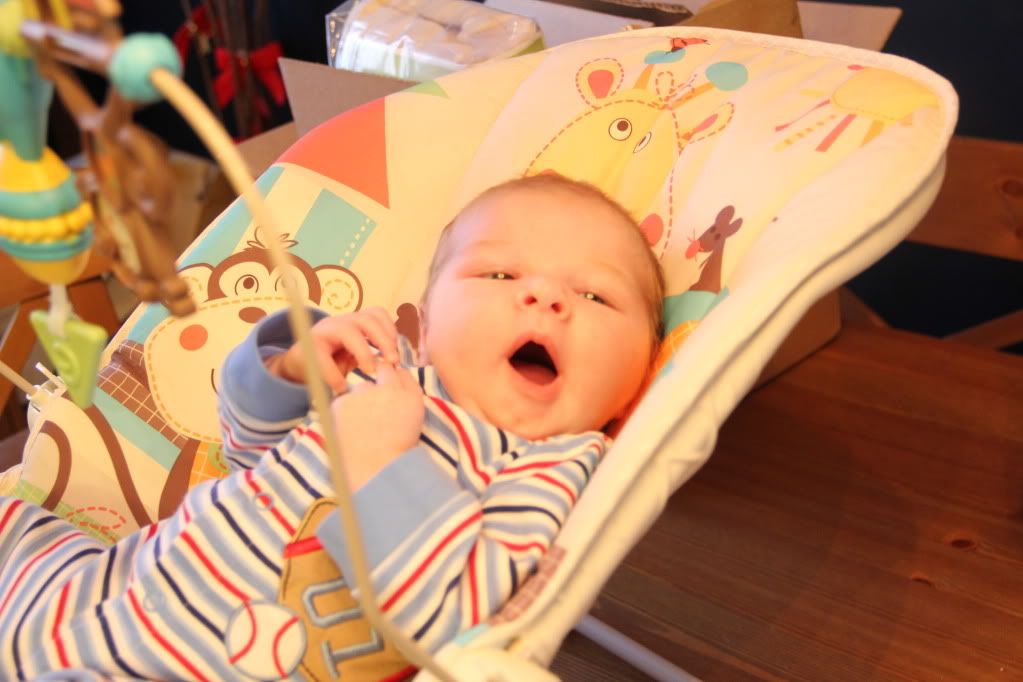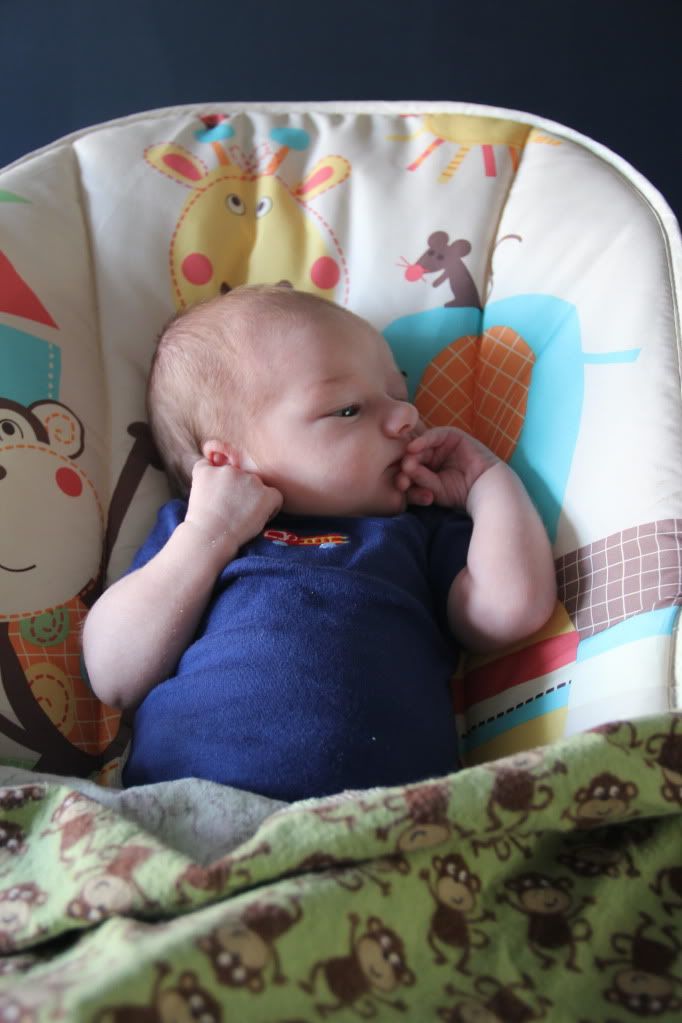 2. Swing - Reid sleeps in his swing at night. When he wakes up and starts fussing, I just turn the swing on until he falls back asleep. Yay, for more sleep.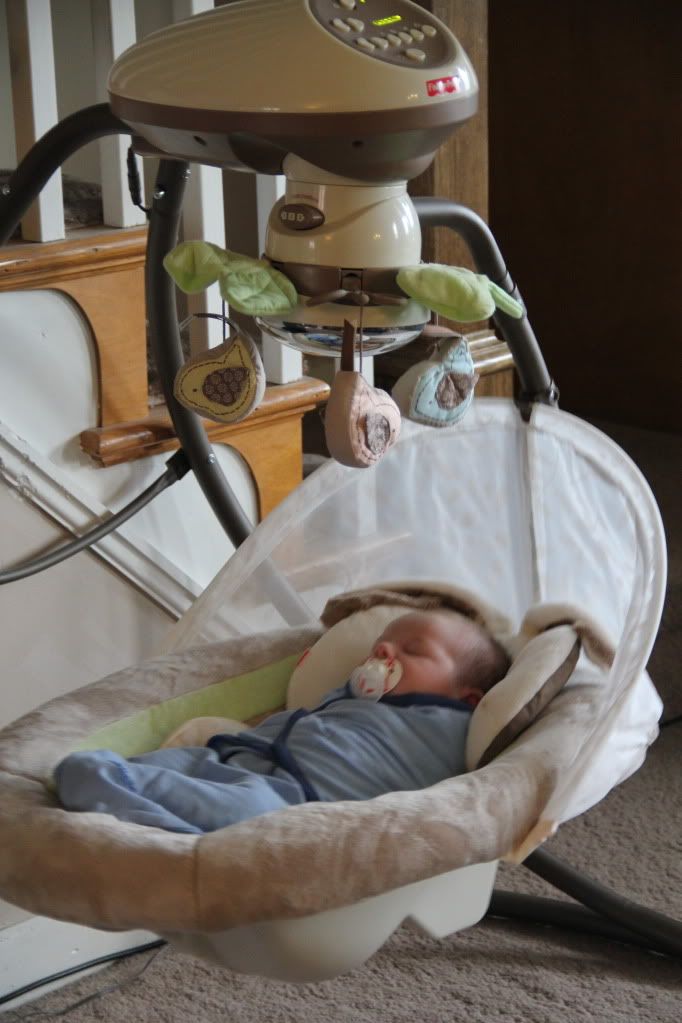 3. Swaddle blankets/sacks - We either use the Aden & Anais Swaddle Blankets or the SwaddleMe Sacks at night. They work wonders and Reid still flails his arms around in his sleep and wakes himself up.
4. Pacifiers - Heaven. Reid had his first pacifier his second night in the nursery. I had read that breastfed babies were supposed to wait to get a pacifier as to warrant off "nipple confusion". Eh, the boy takes to a pacifier and boob great. As for kinds of pacifiers... We have the soothies that he had at the hospital, the nuk pacifiers and the mam ones. He likes them all. I like the mam ones the best, they don't fall out as easily and he doesn't pull them out. They also fit his little face the best.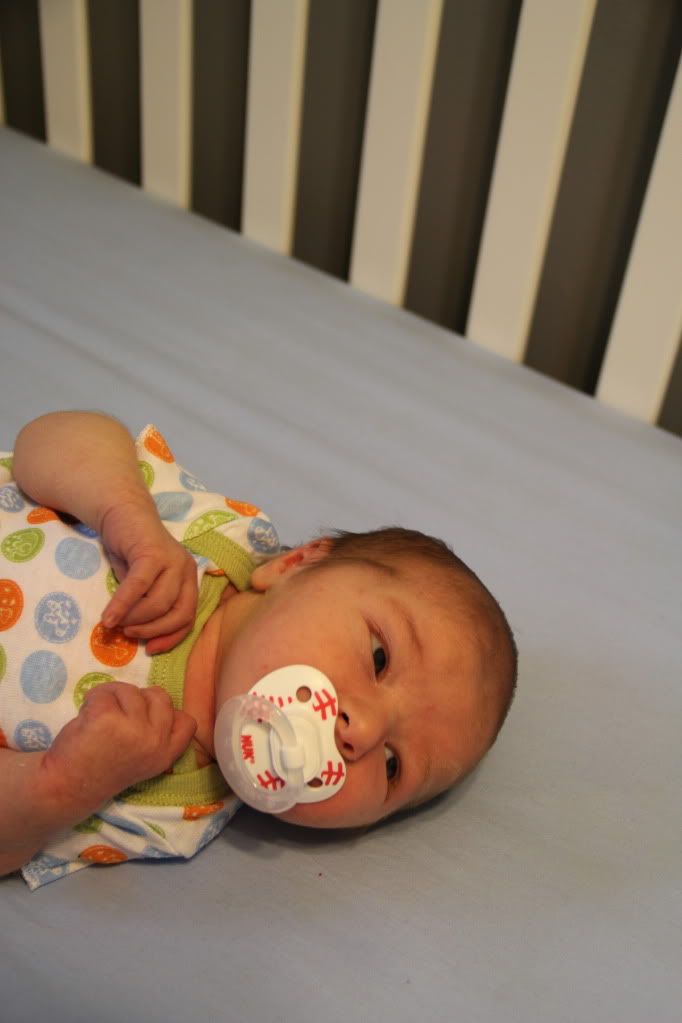 Nuk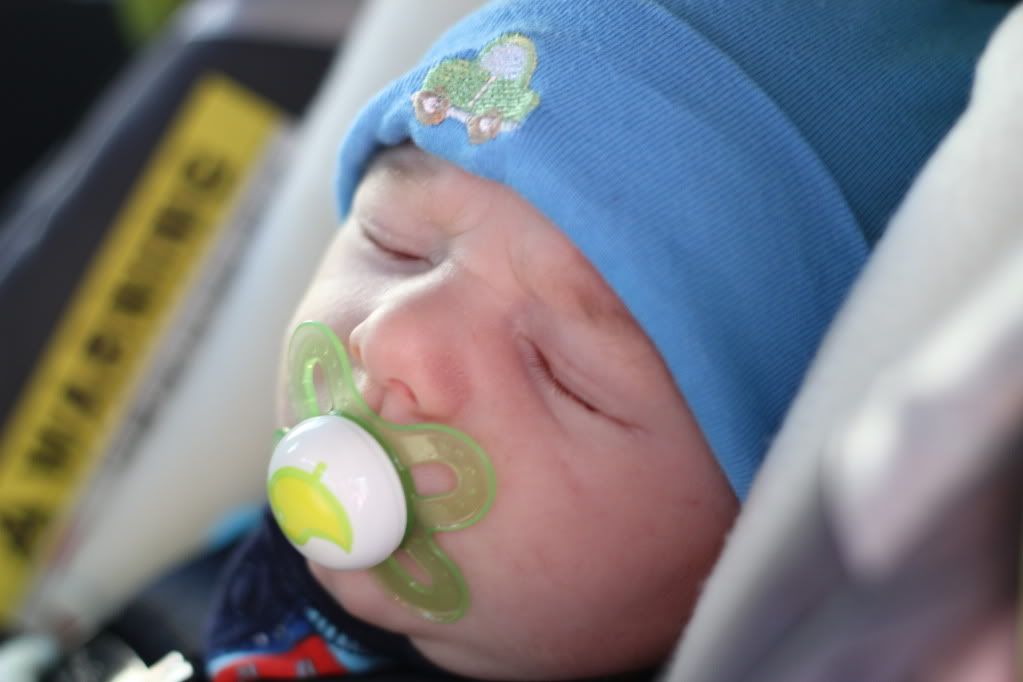 Mam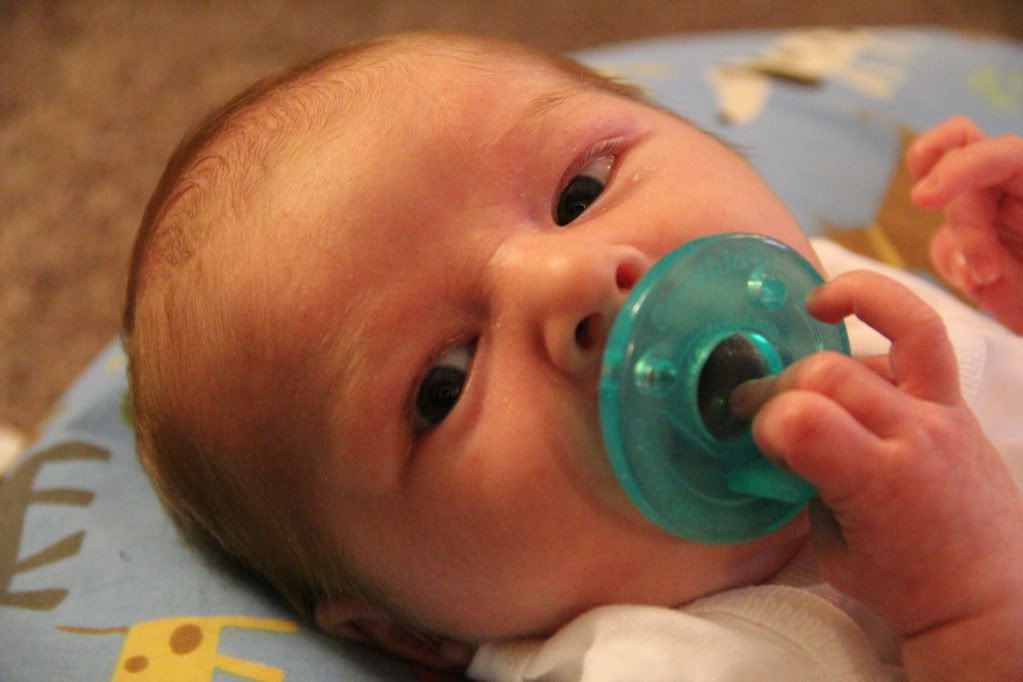 Soothie
5. Mirrors - Reid loves his play mat and loves his mirrors. He stares, coos and smiles at himself for awhile before getting bored.
6. Breast pump - This was an essential when my milk came in. I also pump overnight while Neil feeds Reid a bottle. It is much quicker and easier for us this way. Of course, the pump will be necessary when I go back to work but in the meantime it is helping build a freezer stash of breast milk and making it so that I can run out in the evening without the baby.
7. Bottles - We picked up some Born Free Wide Neck bottles at Target a few days after he was born. He took to them great. They have a vent to help prevent gas and are super easy to clean. Bonus points for being on clearance.
8. Clothing - For the first 2 weeks of Reid's life he wore onesies and footed sleepers all the time. I didn't and still don't care if the sleepers have snaps or zippers. Neil prefers the zippers as he has a hard time with the snaps.
9. Mama's Clothing - I have spent most of the last 5 weeks in nursing tank tops. With a few days in nursing bra's. I got a few target nursing tanks for Christmas. They are worth their weight in gold. I also picked up a couple nursing bras on clearance at Babies 'R Us. Nothing special or great about them but they do their job. I also wear yoga pants most of the time.
10. Food for Mama - I pretty much only eat quick and easy breakfasts and lunches anymore. I need to be able to prepare it in a minute or two (or a couple minute or two increments). Bonus points if I can eat it on a paper plate.
11. A Water Bottle - I drink so much water a day it is crazy. I thought I drank a lot when I was pregnant until now. I always try to keep a full bottle of water by my side. Nursing makes me soooo thirsty.
12. A Breast Feeding Pillow - I have a boppy pillow that Neil's sister passed onto us. I don't know if it is because she used it for a bit or if it just the pillow but it is too flat for me to easily use while breastfeeding. I was given an infinity at one of my showers or as Neil calls it "The Shrimp". I love this pillow. The bigger side where his head goes is higher and it fits around me better. Score one for the infinity pillow.
13. White Noise - We do not have a fancy white noise machine. We were using the static on the stereo in our room, but not we are using a cd (from the happiest baby class) of a box fan. I am not sure if it helps Reid sleep better, but it helps me sleep better. I do not hear every one of his little grunts all night (god, there are a lot).
14. Baby Carrier - We have both the moby and an ergo. I love both. Reid loves to snuggle up to us and they hold him in this position. Usually within a couple minutes of being in the carrier he falls asleep.
15. Patience - There was a lot of crying by both of us when we first came home. I couldn't figure out why he was crying and how to make him stop. Over the course of the past 6 weeks and through the help of Neil, my mom and sister we both survived.