Reid was
born last monday
making him one week old today. This has been a crazy week full of changes.
Monday night around 11pm, my mom and dad arrived at the hospital to meet their new grandbaby.

Tuesday was a day full of visitors and cuddles.


My mom was staying with us for a few days so she got lots of cuddles the first day. My dad was driving back to NY since he had to go to work the next day.

Tuesday was also diaper changing day.



Wednesday Neil headed into work but not before stopping and cuddling at the hospital.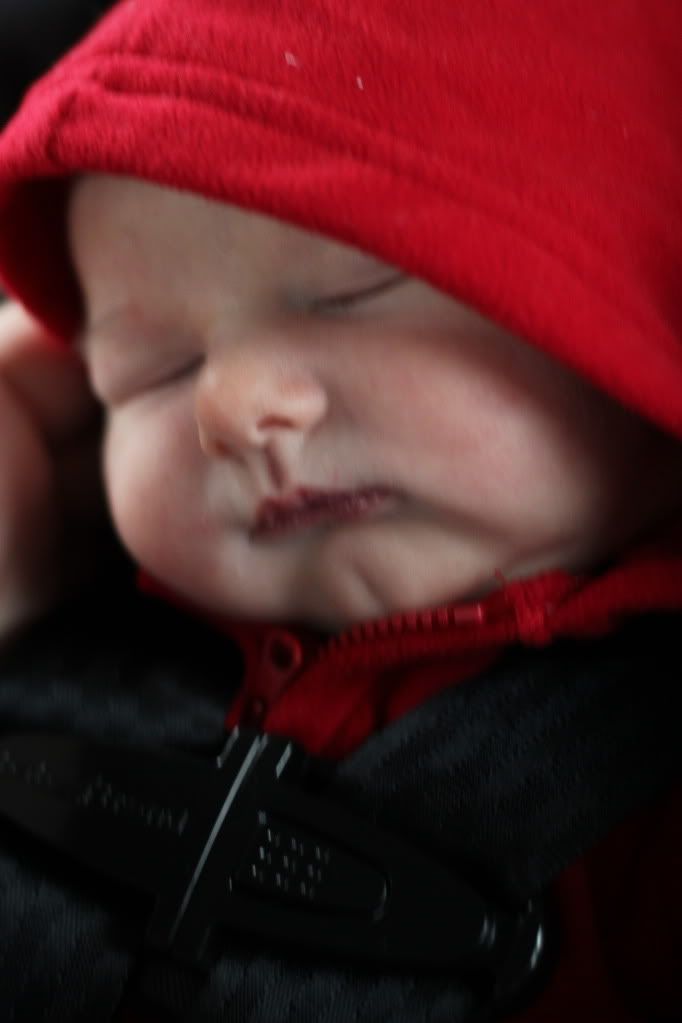 Once home, the dogs were interested in the new bundle.
They were both really good and just wanted to smell Reid. As predicted Molly was at our feet when Reid cried. If he was fussing Molly was whining. Shiloh was interested when he was crying also. Otherwise, the dogs slept all day.
Thursday night, out first night home, was rough. He would not sleep unless he was on me. Every time I set him down he cried. He was also really gassy so I think that was part of the problem. My mom and I took two shifts and pretty much stayed up the entire night rocking Reid.
Friday was a pretty much uneventful day.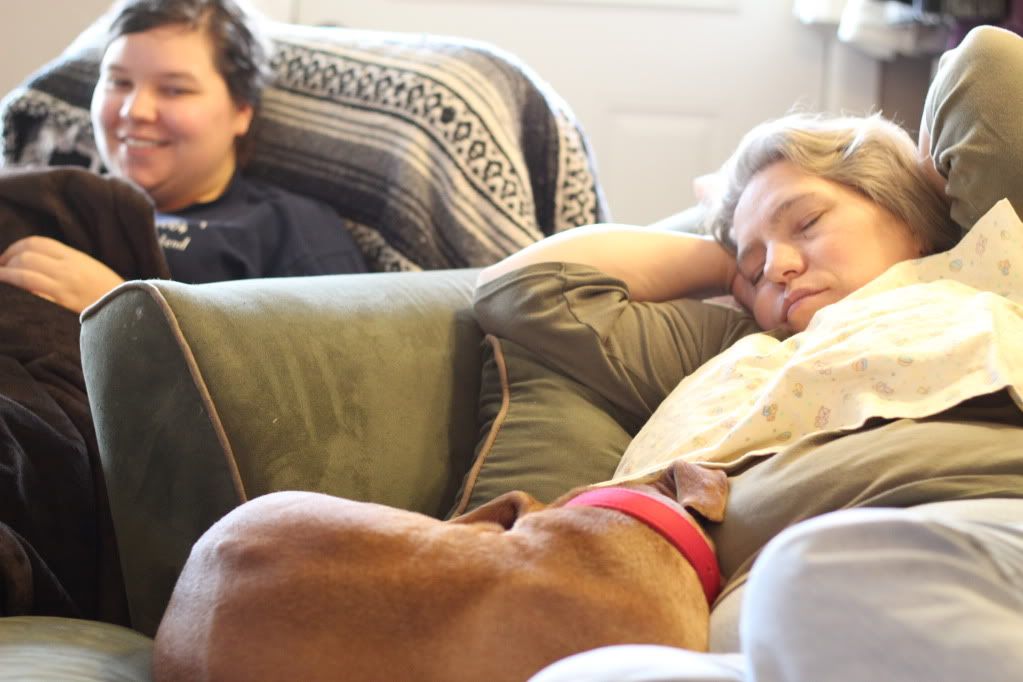 Reid did make a big poopy diaper and when Grandma carried him upstairs to change him, it exploded all over Grandma's sweater.
That evening Neil fed Reid for the first time.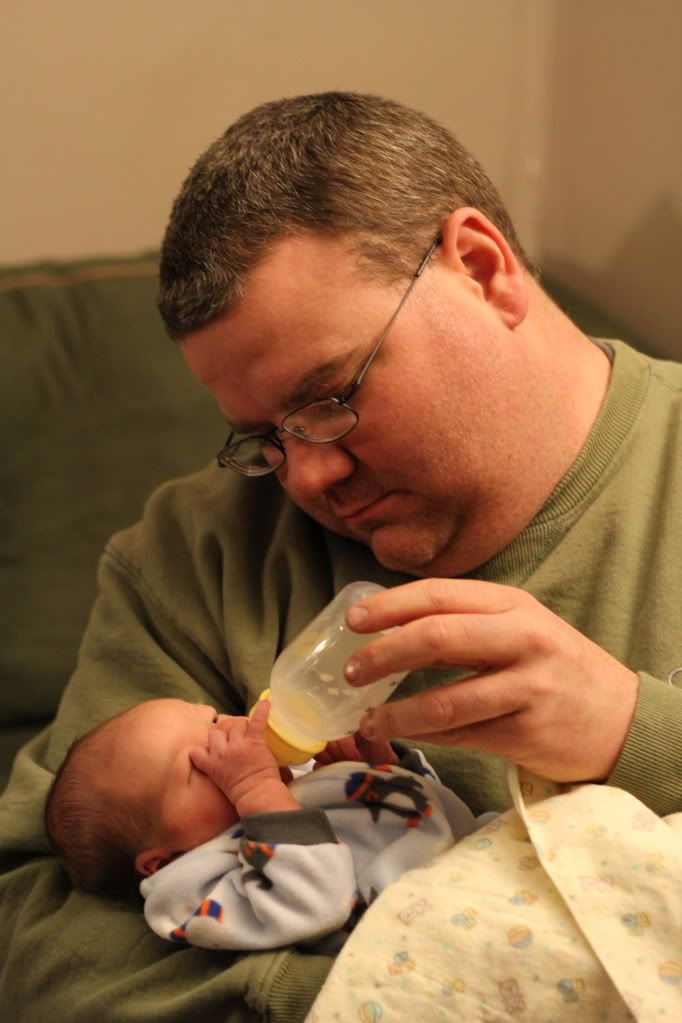 Saturday my mom left to head back to NY. It was definitely a very sad moment. She is planning to come back next week for a few days.
On Saturday Reid had his first pediatrician appointment. They wanted to check his weight to make sure he is gaining. Reid was born weighing 8lb 1oz, and left the hospital at 7lb 8oz. At the pediatrician he weighed 7lb 12oz. Yay for a healthy baby.
The doctor gave us some tips on sleeping. We left the hospital and were waking him every 3-4 hours to eat during the day. Now we are waking him every 2-3 hours during the day and letting him wake up to eat overnight when he is hungry. The last few nights have been much better with two 4 hour sleeping stretches. Momma thanks you baby!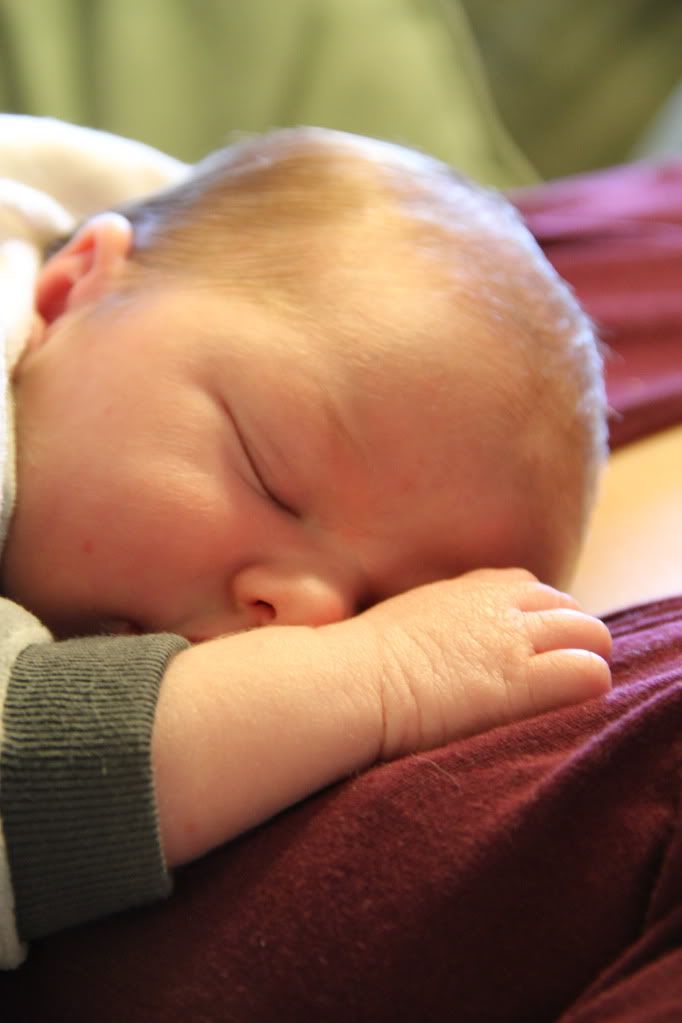 Saturday evening, Neil's brother and his wife came out meet Reid. Uncle John was quite jealous of Reid's gun.
Sunday was again a lazy day around the house with Neil being home. Neil's parents came to meet Reid Sunday morning. They also brought us some meatloaf and chicken cutlets. Yummy!
Monday, Neil headed to work and Aunt Kerrie left around lunch time to make the trek back to NY. Of course, Monday morning was spent with lots and lots of cuddles for Reid.
Monday night, Neil and I took Reid out shopping. We needed a few things and I felt bacd for making Neil run to so many stores. Also I wanted to get out of the house for a bit. Reid was a trooper and slept the entire 2 hours in his car seat. We shopped quickly at BJs and Target, then I ran into Babies R' Us and Michaels alone.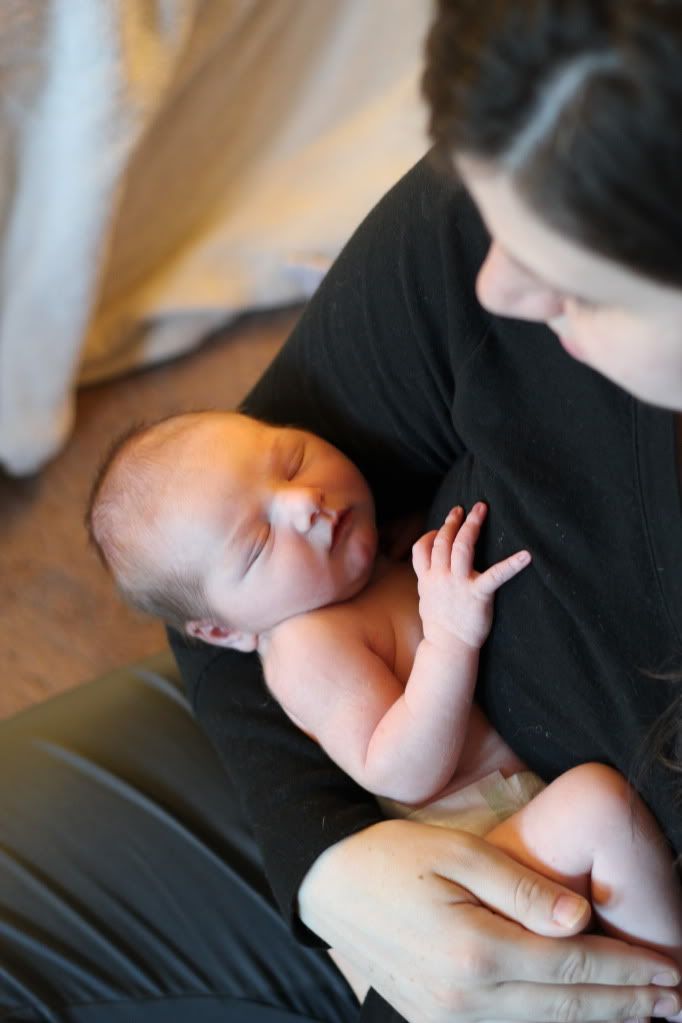 Happy One Week Reid! It has been an exciting one.